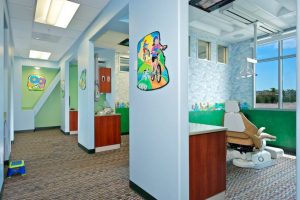 We have designed our office and rooms to look and feel as non-threatening and safe as possible. We try and keep our dental equipment and instruments out of sight. To keep our patients entertained, we have TVs with a selection of parent-approved channels for your child to watch while we take care of their dental needs.
We use a lot of positive reinforcement and child friendly descriptions to help your child feel at ease during the dental procedure. We make recommendations depending on the child's age, ability to cooperate, and amount of treatment needed. The treatments provided take the dental needs and behavioral aspects into consideration.
Both Dr. Dabir and Dr. Cuisia have been providing dental care to children and adolescents for over 10 years. They are qualified and licensed to provide treatments using nitrous oxide and also oral conscious sedation for children that need a little help in getting relaxed for the dental procedure.
We also offer the choice of getting your child's dental treatments done under general anesthesia. We can provide this treatment in-office or at Children's Hospital or Kaiser Hospital depending on your preference and insurance requirements.