Welcome to Carlsbad Children's Dentistry
---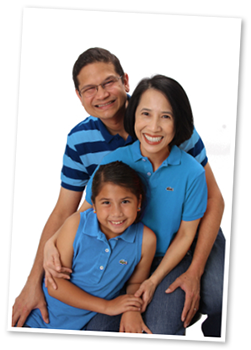 Carlsbad Children's Dentistry
16236 San Dieguito Road #2-22
Rancho Santa Fe, CA 92067
Phone: 858.255.7800
Fax: 760-634-4870

We are delighted to see you! At Carlsbad Children's Dentistry, our aim is to provide the best preventive care and dental treatment for your child.
Our pediatric dentists, Dr. Dabir , Dr. Cuisia, and Dr. Rayna strive to make your dental visit friendly and comfortable. Dr. Dabir , Dr. Cuisia, met each other at LSU School of Dentistry in New Orleans in 1998. After taking a lot of emergency calls together as residents, they decided team up for good and got married in 2002. They have a little girl, Grace, who is the center of their lives.
We are ready to welcome you to our office. Contact us today to schedule your visit. We hope to make your dental appointment with us a walk in the park!
We have been serving patients since March 2008.
Please take some time to enjoy our website and get to know us a little bit better. Use the navigation menu on the left to get started. Enjoy your visit, and come back often!
We are pleased to serve you at


ONE OF OUR THREE LOCATIONS
Carlsbad Children's Dentistry
3257 Camino De Los Coches, Suite 304
Carlsbad, CA 92009
Phone: 760-633-1131
Fax: 760-633-1551
Children's Dentistry of San Diego
10717 Camino Ruiz, Suite 103
San Diego, Ca 92126
Phone: 858-536-1111
Fax: 858-536-1132
www.starrysmilez.com