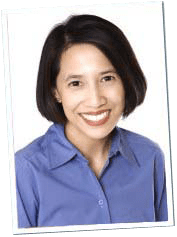 Dr. Cuisia graduated from dental school at the University of the Philippines in 1994. She obtained a certificate of Externship in Pediatric Dentistry at Philippine Children's Medical Center in 1995. In 2000, Dr. Cuisia completed her Pediatric Dentistry Residency at the Louisiana State University, New Orleans.
After residency, she then became a fellow at University of Maryland at Baltimore for 2 years where she provided care to children in underserved areas of Maryland. She also taught the residents and dental students at UMB.
Her clinical research on pulpotomies (baby root canal treatments) was published in the Journal of the American Academy of Pediatric Dentistry in 2001.
Dr. Cuisia is a Diplomate of the American Board of Pediatric Dentistry.
Dr. Cuisia has been in private practice in San Diego since 2002. She has provided dental care exclusively to infants, children and teens for more than 10 years. She is a senior staff member at Rady Children's Hospital.